IronBelles Video
Video on Demand
"Jennifer's Revenge"
IronBelles
If you've already purchased: DOWNLOAD HERE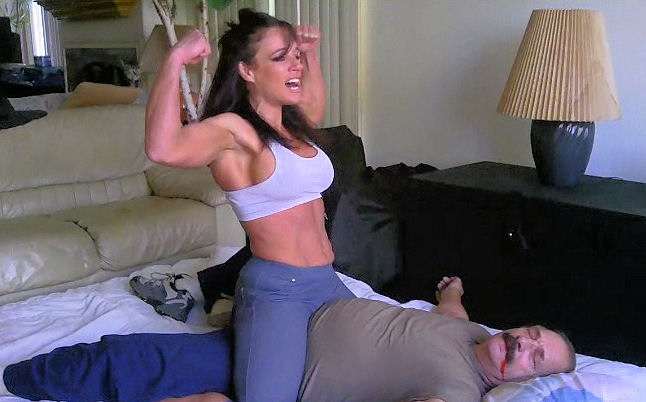 A woman is looking for the man who raped her 2 years ago. For the past year, she's been working out and preparing herself for vengeance. Finally, located him and broke nto his house to confront him for the much awaited revenge....
She confronts him and he is surprised of her presence. She asks him if he remembers her. As she looks different now, he says "no". She furiously explains herself and tells him she's here to kill him for what he has done. He laughs at her approach, then attacks her.
They fight and struggle for a while, she manages to put him in a "sleeper & bodyscissor hold". As she begins to squeeze hard, he drops to his knees and falls to the floor. On the floor, she continues to maintain the hold, squeezing tightly with shivering strength, shouting "I'm gonna kill you for what you did !!!". He struggles hard, trying with all his might to break free, his body buckling, legs kicking wildly, his hands grabbing her arms, but unsuccessfully, as she holds on even tighter.
As she senses he's weakening and almost passing out, she releases her hold and leaves him lying flat on his back on the floor, catching his breath. She quickly gets on top and straddles him firmly giving him a few good punches to the face, shouting "You bastard"!!!. She then grabs his shirt and pulls him closer towards her and said, "I want to see your face when you die!!", while still straddling firmly and tightly on top.
She grabs his neck with both hands and starts choking him tightly, intending to kill him. He screams and struggles strongly, his hands grabbing her wrists, body buckling wildly, trying to break her tight straddle and choke hold. They struggle for quite a while but her determination is too much for him, as she maintaines her position with her powerful strength (her teeth clenched, as can be seen), shouting "Dieeeeee!!!", as he slowly weakens and finally breaths his last.
She then releases her choke, touches his neck to make sure he's dead (no more pulse), and does a satisfying victory pose and cry (yeeeaaahhhh!!!), while still straddling firmly/tightly on top and looking down and unjoying her complete and utter victory!.
6 minutes - 135 megs
Easy Purchase with Visa/Master/Discover
just $6.99!



You must click the check box above to activate the join button.

The button above gives you access to a full video download.
Recommended for broadband users only.

Purchase securely through NetBilling, our authorized sales agent
This is a one time charge.
Please note: you will have 2 days to download the video once you have your username and password.
Also... write down your username and password once you choose them. Use a VALID email address on the order form as your info will also be emailed to you.


Refund Policy
models appearing on this site are over age 18